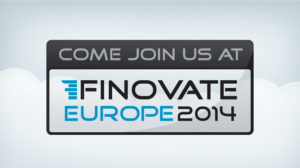 Finovate is the most prestigious global banking conference featuring the innovations in the field of financial services. Every year, three conferences are held, for the EMEA, Americas' and APAC regions, with strict propositions. Participation at the conference is by invitation only, after a rigorous selection process of the submitted solutions. Each company that participates at the conference will have exactly seven minutes in front of a large audience of 1,000 participants made of top-level managers, to present their products without using a PowerPoint presentation – only verbal presentation and product demonstration is allowed.
At the upcoming conference, which is held on the 11th and 12th of February 2014 in London, NF Innova/Saga will participate among the 64 selected companies that will present its innovative banking solutions. NF Innova/Saga will presentthe Personal Experience Module, a new development within iBanking solution.
This module enables banks to offer its customers a unique and fully customized user interface. Instead of static CRM-based rules that are used for segmentation, Personal Experience Module provides adaptive behaviour of the whole system, adapting the user interface to each individual client without the administration of foreign banksIt monitors products and services to which the user is subscribed, its behaviour at the point of the digital input (portal, mobile devices…) and automatically delivers a set of functionalities that is best suited for each individual client at a given time and for the device that is currently used.
FinovateEurope is a demo-based conference for innovative startups and established companies in the fields of banking and financial technology. Held in London, the event offers an insight-packed glimpse of the future of money via a fast-paced, intimate, and unique format. FinovateEurope is organized by The Finovate Group. For more information on the event or to view videos of previous demos, please visit finovate.com/europe2014.
If you wish to attend the Finovate conference, NF Innova/Saga, as a presentercompany, is able to provide you with better registration conditions (20% discounton the published prices). Please feel free contact us regarding this matter.