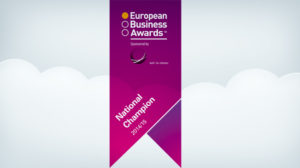 NF Innova's iBanking solution awarded
Belgrade, September 19th 2014 NF Innova has been declared the National Champion in the category of innovation at the prestigious European Business Awards 2014/2015. NF Innova, the only award-winning Serbian IT company, applied with its simple, cost-effective and efficient Electronic Banking solution – iBanking, which provides personal and enhanced user experience. European Business Awards competition is being held for the eighth year in a row, and has gathered so far more than 24 thousand companies from 33 countries across Europe.
"We are happy that iBanking is recognized as an innovative, practical and excellent solution that responds to the challenges of modern business. The award confirms high quality of NF Innova's products and services, as well as our continuous commitment to innovation," said Eldar Banjica, Director of NF Innova.
Adrian Tripp, CEO of the European Business Awards, congratulated NF Innova for winning the award. "It is a great achievement to be named National Champion. The European Business Awards is going from strength to strength, inspiring businesses to greater success and helping to improve the competitive edge of companies across Europe", said Tripp.
As National Champion, NF Innova has enrolled in the next stage of competition for winning UKTI Award for Innovation within the European Business Awards. Winner will be chosen by the jury, composed of prominent European academics, business leaders and entrepreneurs, while at the same time each country is to organize public online voting. Final selection will be held in 2015.
For more information about the European Business Awards, please visit businessawardseurope