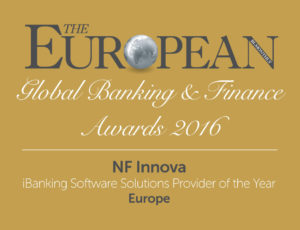 NF Innova acknowledged as Europe's 2016 iBanking Software Solution Provider of the Year at the Global Banking and Finance Awards in London.
NF Innova company share the highest recognition for their continued product innovation and sustained excellence in leadership as the leading software development European company.
The European annual awards programme is tailored to provide a comprehensive analysis of the very best in all major market sectors globally celebrating achievement, innovation and excellence.
The companies are nominated through the rigorous online voting system that prevents mass votes being submitted from any one location or IP address and suspicious voting patterns are scrutinised thoroughly throughout this process. The European recognises organisations and individuals that stand out from the crowd, and are consequently moving their industries forward. Good governance, innovation and know-how, and quality of service are all major considerations.