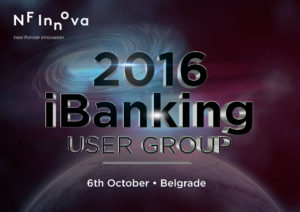 The 6th iBanking User Group Forum, 6th October 2016, Radisson Blu Old Mill Hotel, Belgrade, Serbia. The event engages existing clients and partners in the direct development of their future Digital Banking strategy with NF Innova.
As in the previous User Group events,  the key clients and  the NF Innova partners had opportunity to learn about the latest baking industry trends  from the leading international speakers and NF Innova SME's.
The conference was opened by Branislav Vujović, New Frontier Group President and followed by keynote speaker Dr. Nikolaos Dimitriadis, author of "Neuroscience for Leaders" book and prominent professor at the University of Sheffield. With a number of presentations and case studies, delegates had opportunity to engage into discussions and actively participate in the Deep Dive Technology Session.
Dejan Petković, CTO of NF Innova reflected of iBanking new release with detailed technical specification of each product innovation and adaptability to the existing modules. In addition Eldar Banjica, CEO of NF Innova showcased the company strategy aligned with the four pillar business model made not only for the banks but also other industries.
Partners had opportunity to present the latest upgrades of their solutions which are integrated with Digital Banking platform provided by NF Innova. In addition, Enkelejd Zota, Head of IT & Communication Division at Raiffeisen Bank Albania was invited to elaborate on the latest implementation and integration of the Digital Banking platform provided by NF Innova.
At this year event with a record number of participants from 14 countries the iBanking User Group event has become a major landmark for NF Innova clients and partners embarking on digital innovation.
NF Innova User Group 2016 would not be successful without a great mix of attendees and want to thank to All for the active participation and evolvement.