Everybody knows the routine, usually by the end of the month you receive some promotions associated with the usage of your credit card or account. However, these promotions usually come too late, are completely impersonalized, and end up lost in the customer's mailbox. But there is also other, more innovative, approach boosting usage proper financial products and potentially offering just in time advice to the customer.
People are getting used to the fact that their mobile device is the new digital gateway to their financial activities. Whether its increasing usage of mobile payment solutions, opening new account or simply checking the balance. At the same time, digital channels represent entry point for the improvement of customers' loyalty and value.
Innovative solutions allow e.g. real-time notification with the available promotions together with current balances or even quick loan offers as soon as enters the well-known mall area.  Proper solutions can help customer to save money when paying or manage his/her cash flow without him/her realizing it. Customers' payment and even small loan journeys are being rapidly digitalized and therefore moving to digital channels such as mobile app. NFG iBanking platform was designed to fulfil immediate needs of customers with personalized products and communication across the different channels. It is able to provide customers with real time offers and personalized content, based on e.g. technology of geolocation or beacons, and manage customer's finance via integrated PFM tool. The Digital Core of NFG iBanking platform enables end-to-end digitalization and algorithmisation of customer processes and therefore allows for immediate fulfilment of the customer needs (e.g. automatized loan approvals). Immediate fulfilment together with transparency of the information are crucial components of overall customer experience and often connected with the digitalization of customer journey.
Digitalization of customer journeys appear also in other areas of customer services. Proper Opti-channel solutions are able to provide them with the most convenient solution for solving issues such as loss off credit/debit card as well. Instead of quickly looking for the proper customer service number or nearest branch, customer can handle this by simple click within the app. Customer can then be given information on next steps, numbers to call if further advice or location of the nearest branch is needed and of course the possibility to promptly arrange appointment. Opti-channel solution will make sure that before customer e.g. comes to the branch appointment, majority of process will be already performed. Digital core of NFG iBanking platform enables integration of customer information across physical and digital touchpoints. Therefore, this feature allows smooth handling of different customer life situations, while reducing number of necessary interactions and redundancy of information. NFG iBanking not only offers interconnected Omni-channel solution with seamless channel hopping, but is also able to recommend the best channel for specific activities (e.g. hopping to the phone from desktop when taking picture of the ID during new account opening)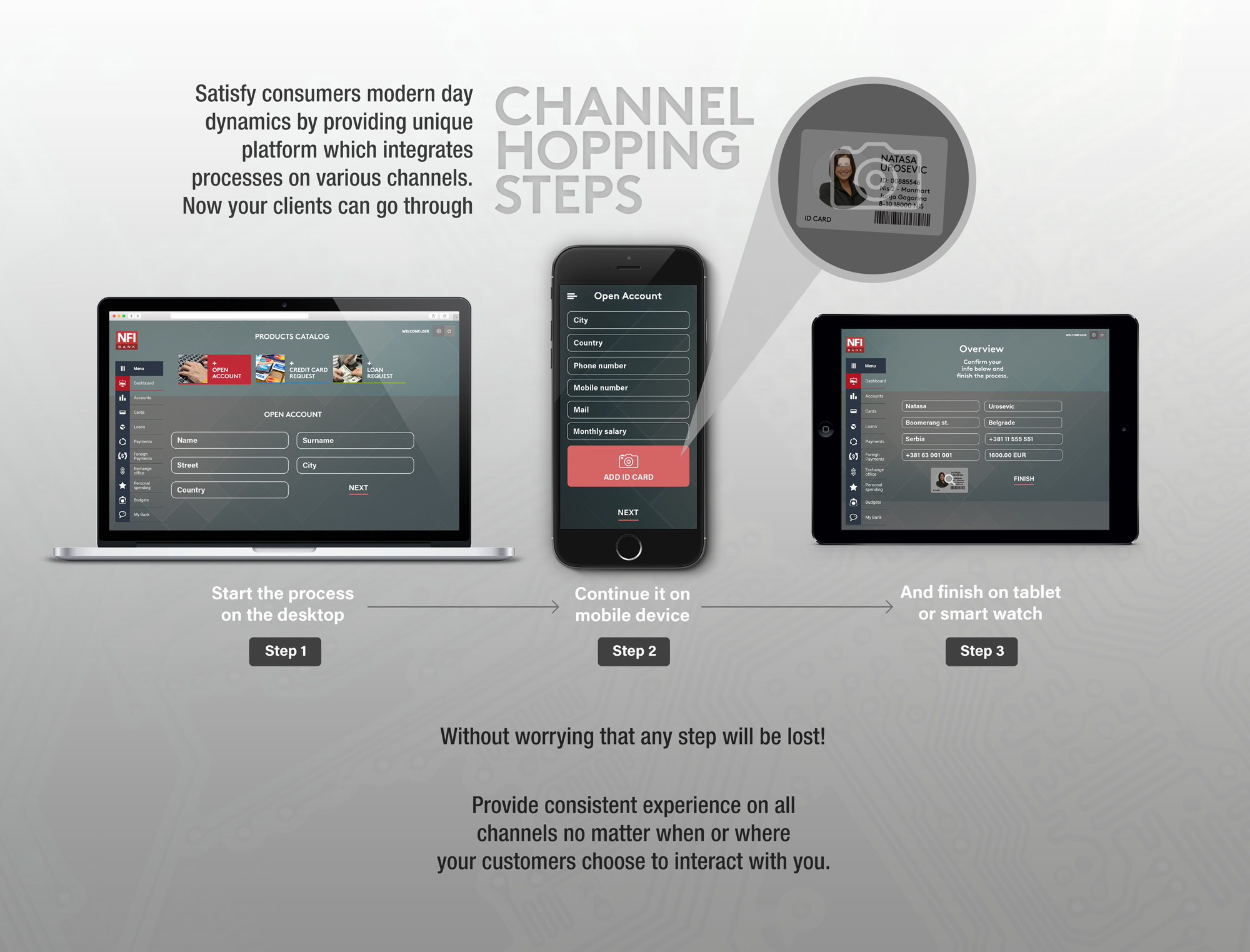 Proper Opti-channel solutions designed around the customers' needs have potential to significantly improve overall customer experience and thus positively influence loyalty and customer value. According to McK survey, customers rating their bank as excellent in case of the experience are seven times more likely to increase their deposits and open additional account with the bank. At the same time McK states that omni-channel increased regional bank's product sales by more than 25% in only 6 months.
Omni-channel and further Opti-channel benefits may be crucial for the success in further opening banking industry
Customers:
Improved overall customer experience,
Accessible products fulfilling immediate needs,
Cash-flow optimization in combination with personal finance management
Banks:
Facilitates cross-selling of products and consequently increases customer value
Improvement of loyalty as a consequence of excellent customer experience
Optimization of cost of customer servicing due to balancing of digital and physical channels engagement
Blog Contributors
Since more than ten years, Vladimir is consulting banks on the topic of end-to-end Omni-Channel Banking and digital transformation in EMEA.  Based on his experience with leading European and Russian banks, Vladimir has wide knowledge in designing advanced Digital Banking architectures and the quality assurance during implementation of those. Vladimir is expert for Front-end Channels, the "Smart Digital Layer" and the effective integrations with Core Banking.
Peter is Senior Digital Transformation Consultant who worked with number of clients mainly in banking, telecom and energy & utilities industry. Peter focuses on helping established players to face challenges and take opportunities brought by digital disruption. He splecializes mainly in development of digital business models and overall digital strategies. He is currently working on topics related to Open banking and Digital banking.