Digital products are more and more present in our daily lives. If we look around as consumers, thinking about banking, telecom, transportation and even energy industry, we recognize the increase of digital products, which are the positive result of key assets in digital business models. Tesla created a digital product, by building a chassis with an electronic engine around a computer, which is the key asset of this new generation of cars. A computer which is controlling and managing the entire car. You, as a driver, need more horse power? Nothing easier than that – go to the member area on the website of Tesla, order and pay for the additional number of HPs and the software of your car will be update immediately and release more power for you. The same will go soon for other features – let's assume it's winter and you want to have seat heating but you don't need it in summer –just go for the winter subscription or order it for one week of your skiing vacation and pay transparent for what you really need, enabled by digital.
But what about banking industry?
Leading banks are already offering digital products to their clients, offerings of banking products which take into account a set of individual information, like customer's personal profile (eg. age, family status, income), geolocation, customer behaviour, environmental context, etc.
One of the key elements of a successful digital ready bank is the attractiveness of value proposition for digital products (see chart).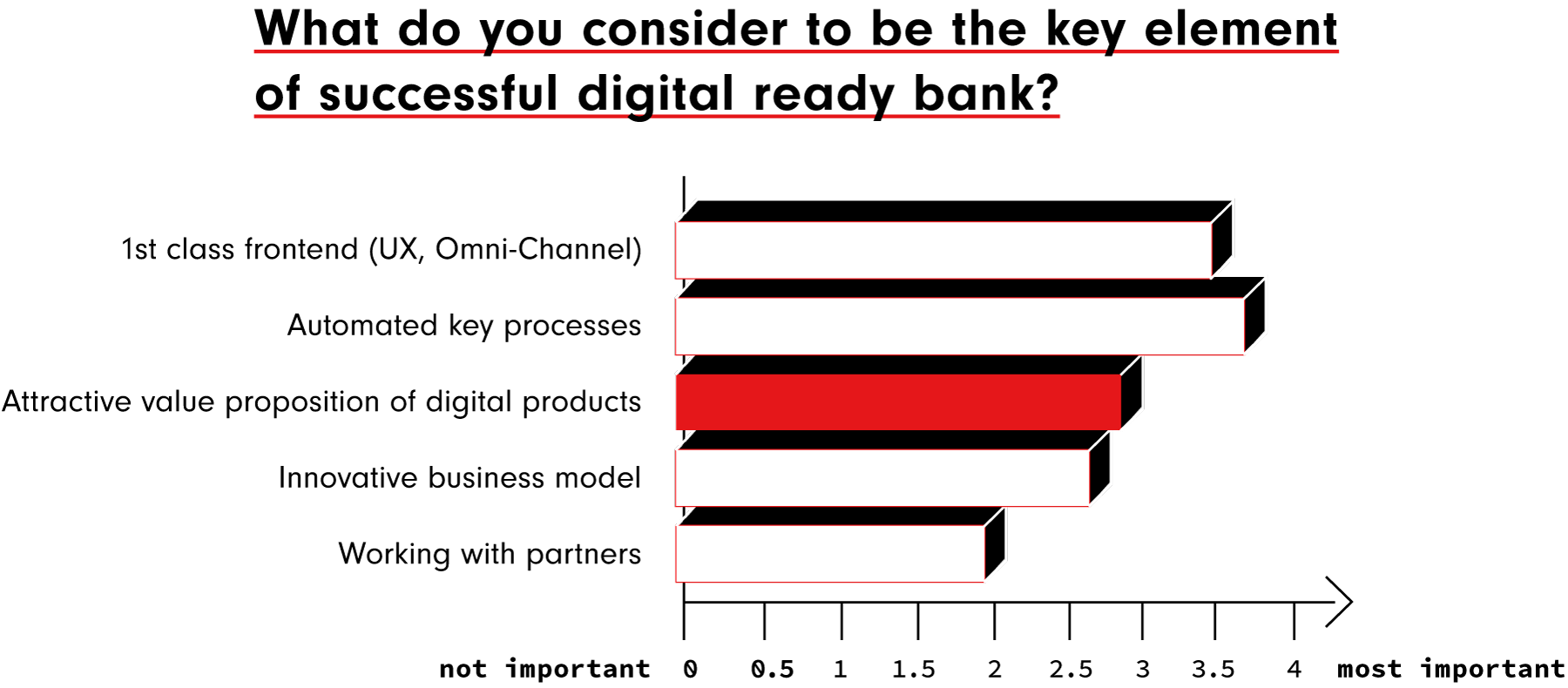 Source: New Frontier Group, Digital Banking Survey, 2017
Let's assume you are close to a shopping mall with your family and your mobile banking app automatically notifies you that you can benefit there from discounts of bank's partner- shops and it also offers you to apply immediately in the app for a pre-approved consumer loan, because it is end of the month and your debit, credit cards are close to limit.
Would you go for it?
I assume yes.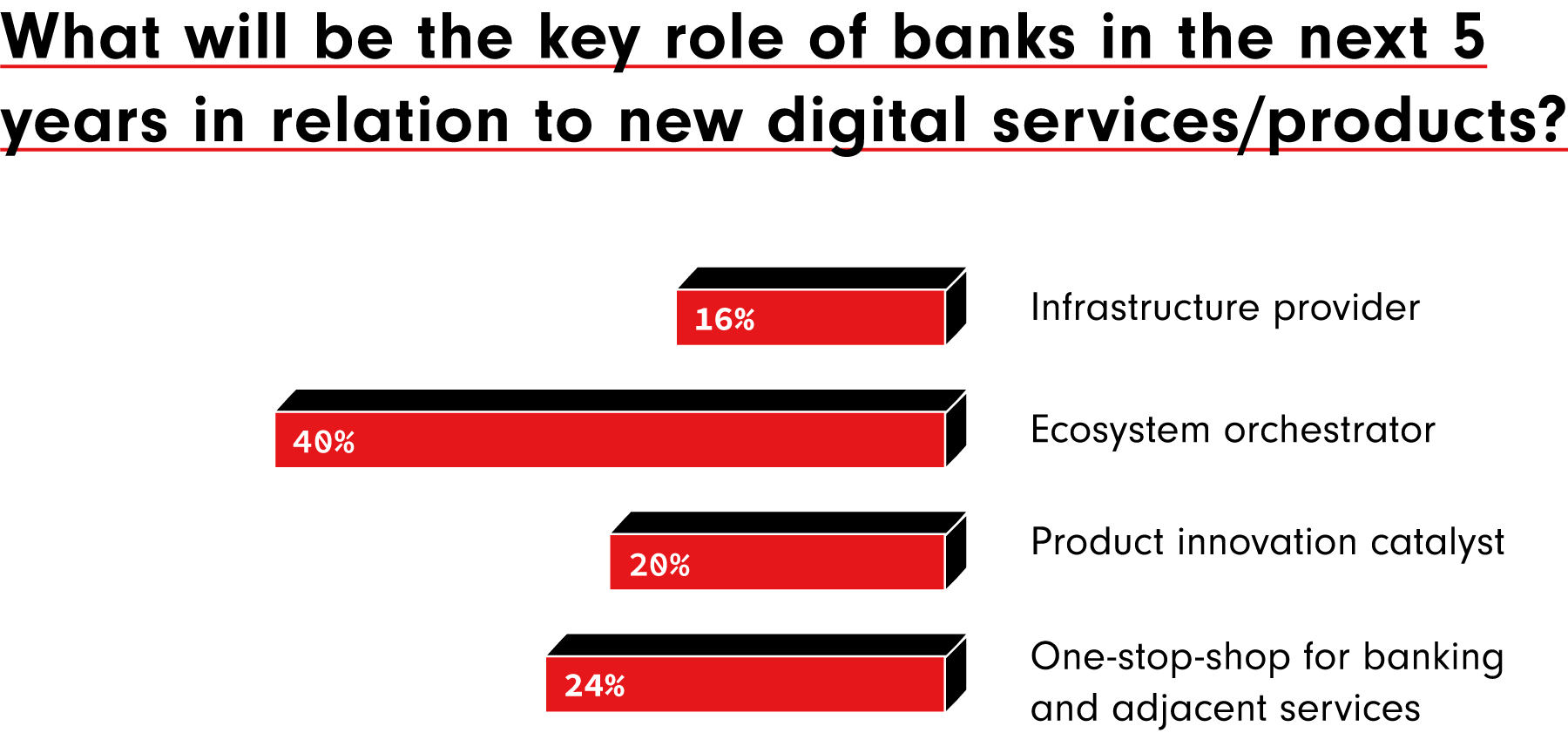 Source: New Frontier Group, Digital Banking Survey, 2017
Let's look at personal client information and the creation of digital products. Banks are collecting tons of customer data, unfortunately most of banks are not yet using it properly, but let's assume bank is offering across digital channels, personal finance management to help their customers managing their spending and savings and bank enables customer to define saving plans for various saving goals. One of goals is buying a new car – a Mercedes – and to save for the purchase of a new used car. If bank already collects transactional data and knows what the customer is saving for, why not to offer a car leasing or financing after a certain savings amount is reached, so that customer can immediately go for a new car without waiting for several more months. This banking product could be fully personalized on customer's profile (monthly instalments, down payment, …), expectations and targeted product (car), by automatizing and simplifying of the creation and enrolment process of the banking product – the "Car Lease". Customer can benefit from the digital product and support of his bank and for sure appreciate with his/her loyalty and trust to the bank.
New Frontier Group's Digital Banking platform "iBanking" enables banks to create, customize and enrol digital products to their Retail & Corporate clients. NFG iBanking supports the value creation of digital products thru End-to-End Automation, segmentation and personal finance management as fully embedded components, which is the basis for state of the art digital banking business models.
Depending on the strategy, banks can choose different type of innovative business models (see chart).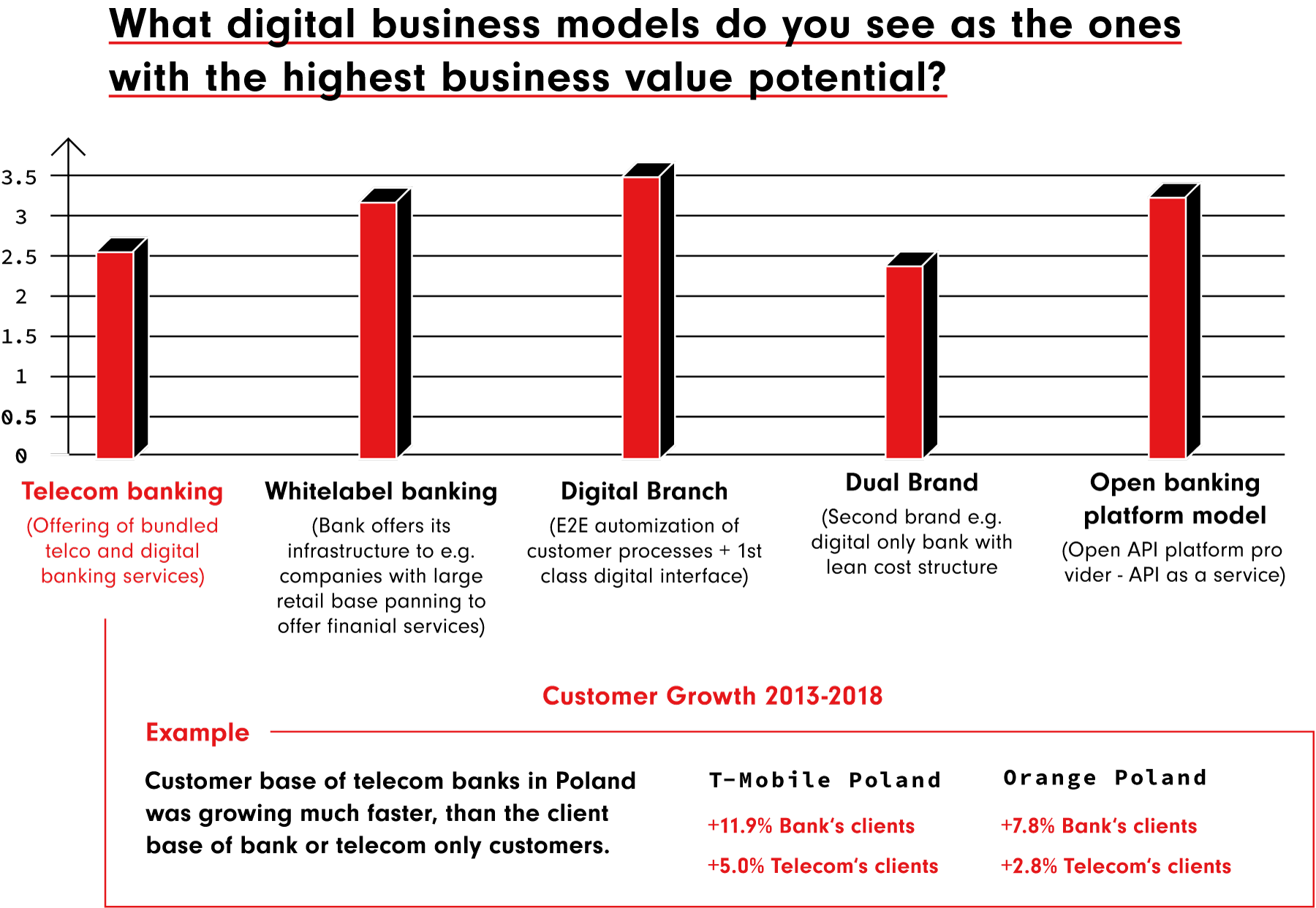 Source: New Frontier Group, Digital Banking Survey, 2017
Blog Contributors
Gregor Bierent is Managing Director in New Frontier Group, taking responsibility of New Frontier Innovation, the innovation hub for own software products and digital consulting services in New Frontier Group. Previously, Gregor was acting in different management roles for leading international consulting companies (e.g. Capgemini) and driving business in CEE. Gregor graduated from Vienna's University of Technology where he studied Business Informatics.