Article from magazine "Biznis"
Analyzing FinTech companies (the name says it all, FinTech companies focus on financial services using new digital technologies), one can conclude that the characteristics of digital banking are low prices of services (or free), new digital products and personalized offer, a very good customer experience including immediate performance of services, openness and transparency, automated processes, the new digital ecosystem and low consumption of resources (lower costs) compared to banks. FinTech companies have more programmers and technical staff than bankers. Their products use smart mobile phones and the Internet as the primary channels (Mobile first approach), they have no physical contact with clients. Most FinTech companies optimize one or more processes from specific area banking. There are not a lot of FinTech companies attempting to cover wider banking services in one of customer segments and become digital competition to banks. Figure 1 shows FinTech companies grouped by banking services operating on the German market.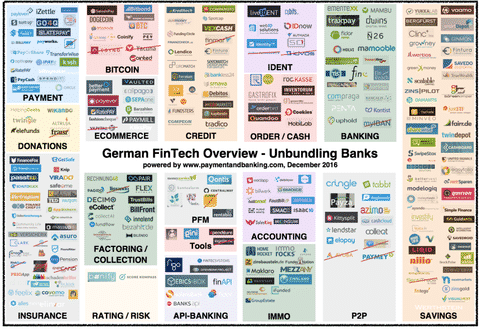 In other words, everything is digital and automatic. Problems for FinTech companies are the lack of capital, insufficient number of clients, trust, lack of contact points with customers, losses instead of profits. Therefore, FinTech companies attract customers with free services that require even greater investments. Investors are the ones who pay for that investing capital and giving support. Maybe some investors have too much money or maybe there is something attractive in new FinTech companies, because only this year, there will be investments in the United States that amount to $20 billion. It is expected that this investment will enable FinTech companies, within the next few years, to take over 20% of the turnover generated by the banks in this market.
The bankers have another definition for the digital banking. They think it is sufficient to add internet and mobile interface and allow the user to submit their requests via digital channels and not only in person. That is digital banking for them. Bankers do not see FinTech as competitors or at least they don't see that banks would be directly threatened. They understand advantages of traditional banks, such as confidence, a great number of contact points with customers, including digital and physical channels, the capital they possess, high profitability, strict procedures for risk control, a great number of employees, numerous products and services. Some of the bankers understand that they have high costs as a result of manual processes, many employees, slow market appearance with new products, not being open and transparent, not having personalized offers, which they justify with strict laws and regulations and procedures for risk control. Customer loyalty is based on statistics that show there were not many changes within banks in the past. But according to analysts' reports, that is changing too.
It is certain that only a few FinTech companies will survive in this competition with banks, but it is also certain that customers' perception of what is a good service and what are the real prices of certain banking services will significantly change. The pressure on banks, their profitability and turnover will rise.
Here is a possible suggestion of a digital transformation of a bank, based on a long experience with banks. This solution adds value for clients and the bank, improves customer experience and introduces new digital products and services. It enables the bank to defend its position in the market and launches new improvement. This solution takes into account the specifics of the banks and their investments to date.
It is necessary to start from analyzing all previous digital activities and their compliance with the best practices in the market. It is absolutely normal that some activities were effective and progressive in the past, but that there are better alternatives today. Considering various digital solutions from banking practices and other industries affects the creation of new views, ideas and better understanding of the value for clients. It is necessary to analyze and understand digital business models and their value. From client segments and offer value, through the channels, main activities and resources to the partner ecosystem, the structure of costs and revenues. This is the basis for defining new digital strategies and objectives of digital transformation; what the bank wants to achieve with the digital transformation and how.
The digital transformation of banks can be easily represented in five steps.
The first step in the digital transformation is the integration and consolidation of digital channels and their integration with physical channels, creating omni-channel communication with clients or, even better, opti-channel communication. Omni-channel communication is when the user can keep communication or use services moving from one channel to another without interruption. The user can submit his application for a loan on the internet, continue the process in the bank, and complete it on his mobile phone, according to his choice. Opti-channel communication uses certain advantages of specific channels. If a user in a shopping center turns on a certain banking mobile application, his mobile will then show, based on his geo-location, information that may be of interest on that location. For example, his credit card statement. Another example is to use an optimal channel for a particular operation. For sending documents, one should use smart phone because it is easiest to photograph or scan a document using the phone, and other steps of the operation can be made on any of the channels.
According to a consulting company McKinsey's report, universal banks have about 600 different processes. Thirty of those processes are client oriented and they use 50% of all resources. One of the advantages of FinTech companies is that they fully automate and make algorithms all operations and thus significantly reduce costs. Banks have to respond to that and, in a first step, automate as many of these 30 processes. The combination of opti-channel system of communication, automation and integration with the main banking system are another step in the transformation of the bank.
(It continues in next issue)