Mobile banking applications today are more than mere transactional tools and ATM locators that they used to be in the beginning. As the customer awareness of new technologies increased, what was offered wasn't good enough anymore. In order to keep the pace with new customer demands, dictated by the latest technologies and widely used communication platforms, applications had to adapt and evolve. With multiple touchpoints, big data came pouring in from all channels simultaneously. Or was it so? And if it was, how was that data being used?
The effectiveness of every application comes from the platform it rests upon. In order to use the full potential of a banking application, you need to have a real-time data management. The information from one channel need to be available on all channels at the exact moment when it appears on the channel of origin. That is what NF Innova's opti-channel platform delivers. Therefore, let us dive into the details of what a completely customizable and personalized application should look like.
Segmentation is one of the starting points of every development strategy, so why should it be any different from mobile applications. You have your basic segmentation on private individuals, small businesses and corporate clients and subsequently a mobile app for each of these segments. But can one application cater to specific needs of each individual within a segment? Wouldn't it be much more efficient and cost-effective to know which message is relevant to which audience, and not serve it randomly to the entire network? With NF Innova iBanking platform you can reach that level of personalization by optimizing the appearance and communication.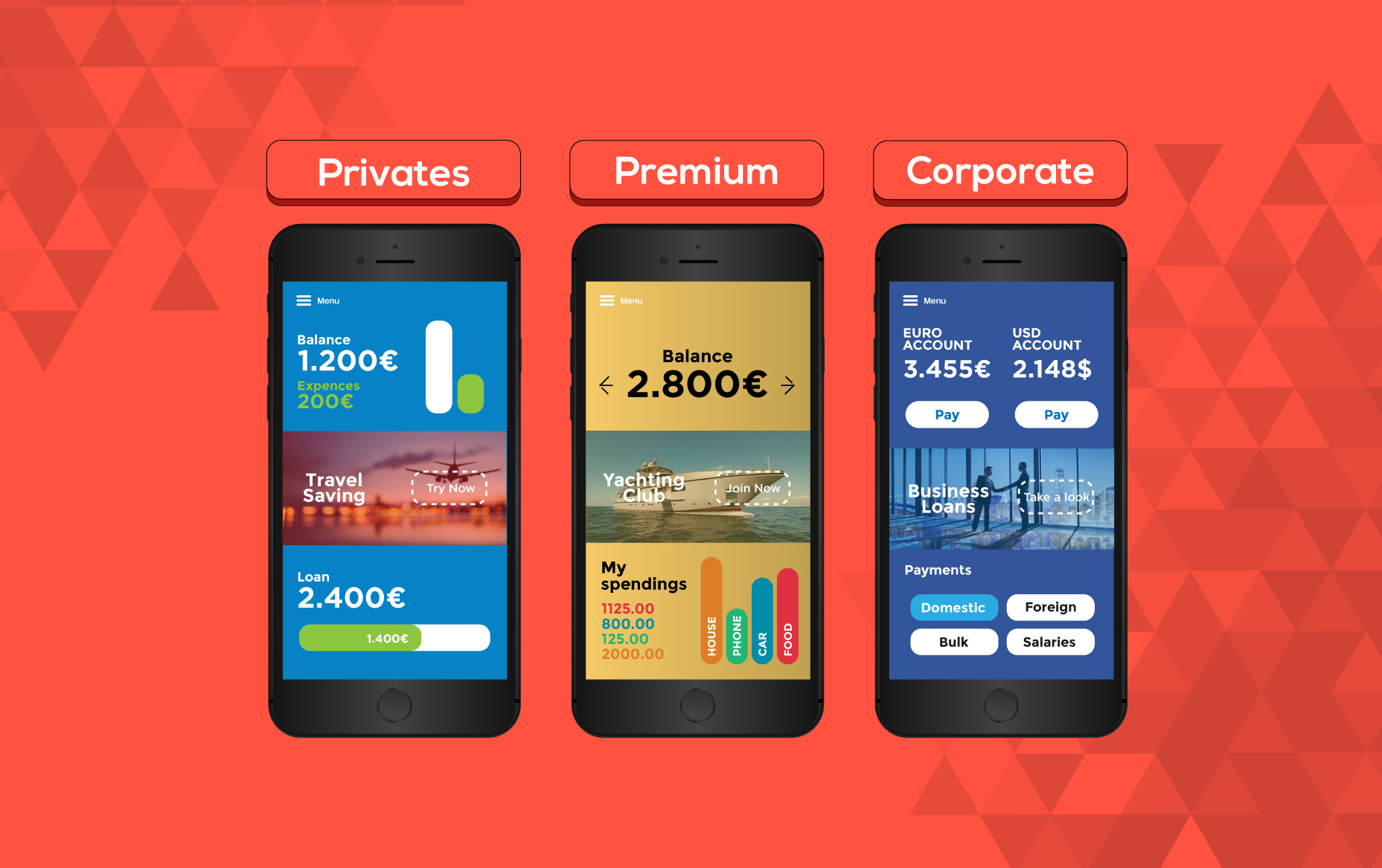 Administration of the whole application is done from a single point, so your back office won't have to juggle with multiple interfaces, unnecessarily wasting resources. The administration panel allows the adjustment of user interface both visually and functionally. The app appearance can be changed as well as the entire set of functionalities. An integrated part of the native mobile banking application are various functional modules you can pick and choose from, and plug-in as you wish for more personalized customer experience.
Let's take as an example the personal savings goals. By relying on the mobile banking solution that NF Innova provides, a user can set a personal saving goal, for example a purchase of a new car. The customer also has an old car he would like to sell, in order to use that money as the initial deposit. Since all data is stored centrally, you can easily provide the best possible combination of digital products to offer, based on customers input, banking history, behaviour patterns and preferences. In this case, maybe a combination of savings and short term loan would be the right solution. An integrated smartbot assistant can guide the user through such process helping them decide and making the whole experience smooth and straightforward. You can even provide offers from your other clients or partners in automotive industry, so that the user does not even have to leave the mobile app in order to sell and buy a car! This is just one of many functional modules NF Innova has developed. Some of them are the personal finance manager, P2P and cash withdrawals, budget planning and more.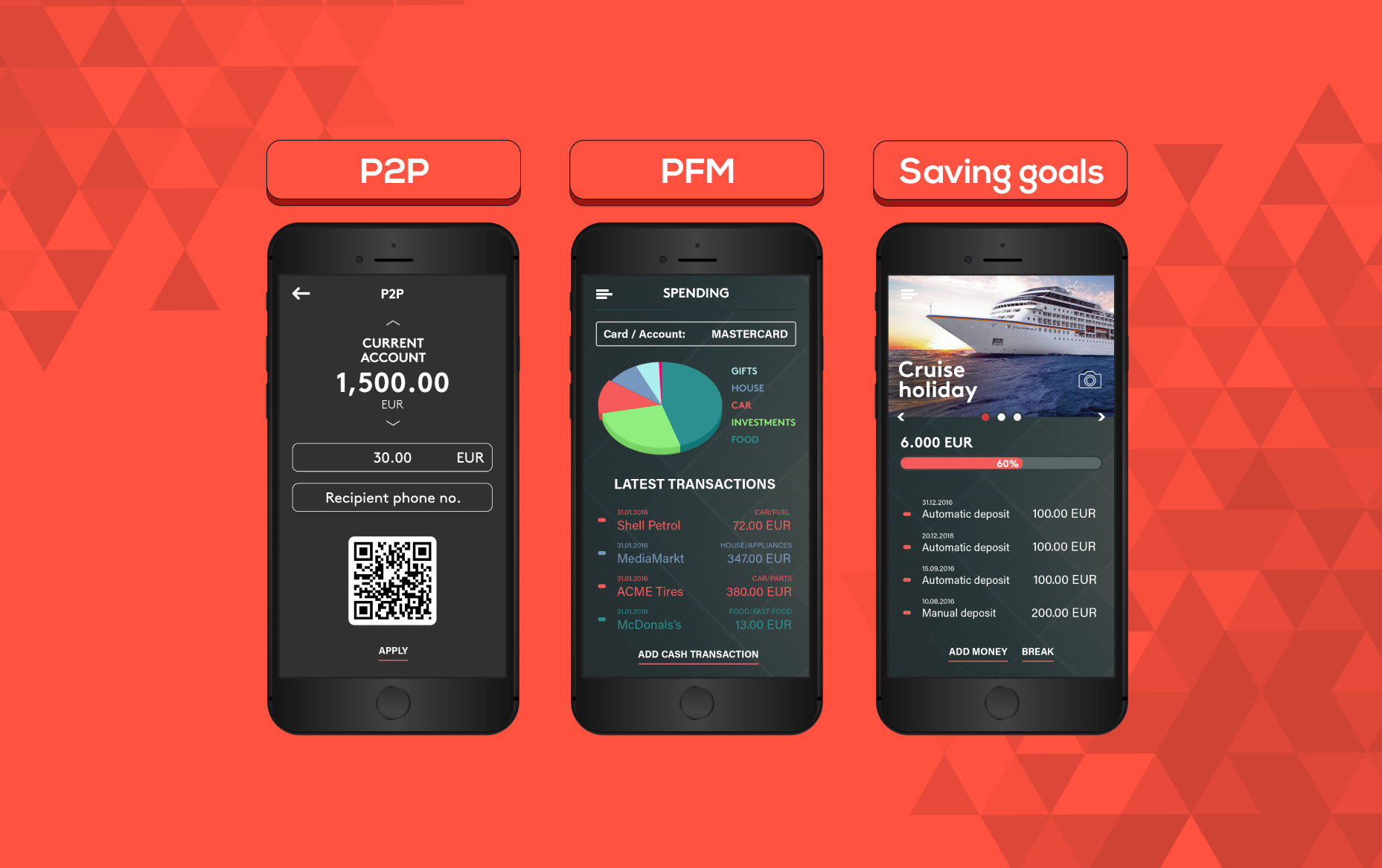 Our mobile application can deliver various user experiences by using technologies such as geolocation and augmented reality. How does the geolocation technology work in practice? Let's take a look at a client of ours, who had stopped to refuel his car. He gets a push notification from the mobile app, saying he gets a discount if payment is done by his bank mobile app. After refuelling, the pump displays a QR code for the user to scan in order to make a payment. It's as simple as that. Now our client is off to the parking lot to browse for a new car. Finds a beauty made just for him and wants to check his status on savings – how far to the dream car. The client scans the car with the augmented reality module available within the mobile app, and gets a detailed overview on best price in town for that item, his savings balance and is a promptly pre-approved quick loan that enables him to purchase the car at the best price and on the best payment terms of the offer. That is the experience we want for our clients and prospects.
We did not forget about prospects. The mobile application that NF Innova provides is also an efficient acquisition tool, with a fully implemented onboarding process. There is no need to go to the bank to open an account. That is beneficial for both parties: clients have their convenience and banks have their clients. With built-in facial recognition you can be sure that the customer identification is 100% accurate. Security is also a focal point when it comes to NF Innova solutions. We deliver excellence in security standards in financial industry where the majority of our clients come from. Our solutions are fully compliant with these high security demands in every aspect of solution implementation.
As you can see, this is not only the technology. This is a full spectrum of innovative digital products and partner ecosystems that stem and thrive from one single application. The mobile application today is the place to inform, entertain, engage, assist, sell, buy, onboard and do daily banking. Process automation is in the core of every initiated procedure. We invite you to provide a one-of-a-kind optimal experience to your clients, that results in long-term engagement, relationship and loyalty. For NF Innova, this is just the first milestone to a new generation of mobile apps that we have designed. See you at the upcoming launches of our latest fintech innovations.