Today's people are living "a double life". First one in the traditional, physical world and second one in the digital world. We talked about constant jumping between the two worlds in the previous blog entry and we introduced main characteristics of these two worlds using the example of traditional and neo banks.
The banking is not a matter of physical distribution of printed money anymore, but a set of digital operations on data. That means that the whole of banking operations can be performed by clients (self-service) with a software solution (application) working on data. This lowers the entry barrier and enables many neo banks and fintech's to start competing on the market by being actual technology companies.
Software solutions for financial services are executing simplified digital processes including the part for communication and collaboration with clients (digital front end) where clients are initializing and entering all data for requested financial services (self-service). Neo banks and fintech's develop solutions based on simplified, digital approach and on digital operations and they increase value of the proposition to their clients compared to traditional banks. Confirmation comes from investors who support new ventures for financial services with billions of dollars.
According to The Fintech Job Report 2021 published by Center for Finance, Technology and Entrepreneurship, market value of top 100 fintech's (including neo banks) are 38% of the value of top 100 banks in 2021 vs. only 3% in 2010.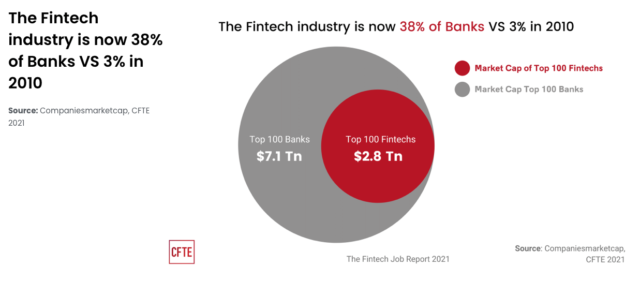 Comparison of the traditional banks and neo banks: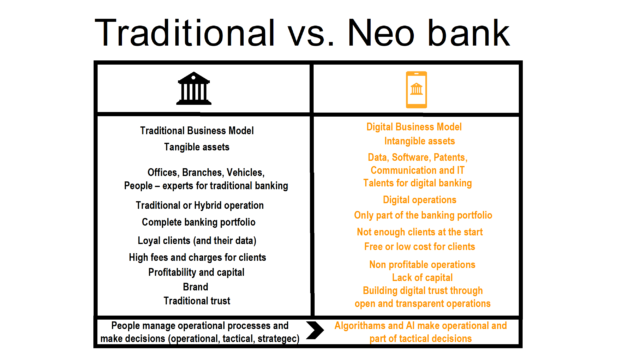 Traditional banks are transforming their business and adding digital banking on top of their 100-200 applications (if they are tier 2 bank medium size) going up to 6.000 applications for tier 1 banks. This process is complicated for the IT department but even more complicated for operational departments of the bank (Microservice power). Traditional bank's talents are experts for traditional banking, and they are not ready to change and redesign operational processes for digital banking or to create them from scratch in order to achieve optimal digital efficiency. There are many excuses but the main one is "following strict regulation".
There are parameters for assessing new digital value proposition:
Price/performance of the banking services
Immediate fulfillment (all operational processes are digital) – important part of the user experience
Simple, fast and easy application – user experience
Peter Ramsey (@PeteRamsey) is a user experience expert and founder of the company Built for Mars (www.builtformars.com ). He assessed the user experience in banking industry in the UK. Banking talents can learn a lot from his case studies and explanations.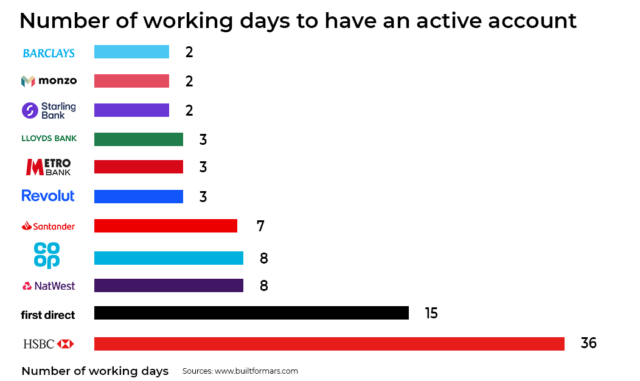 The first case study compares digital services of 12 banks in the UK (both traditional and neo banks) where he personally opened accounts. In the first chart, Peter presents how many working days are necessary to open an account from a mobile application. From start to the end –  when Peter received a debit card ready to go shopping.
All banks have mobile applications, but only 4 (3 neo banks and one traditional) enabled Peter to finalize opening the account. For others it was necessary to do some steps in the web application. 18 times difference is significant and properly represents the situation.
Second chart presents the effort necessary to open an account in the application: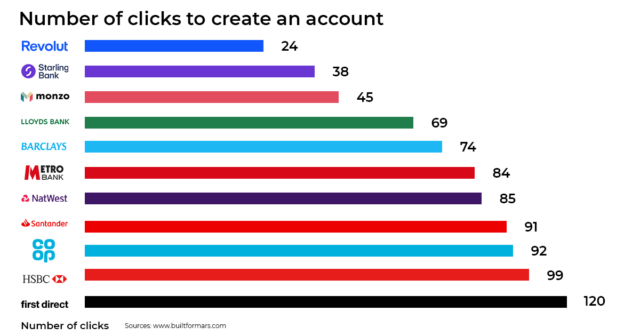 Neo banks were much better and what is interesting, they were even faster in printing and sending the debit card by post (physical activity). The neo banks achieved even the immediate fulfillment criteria by providing digital cards, but Peter didn't take that into account for the previous chart.
Traditional banks have a very good brand, a significant number of loyal clients and profitable business every year, but they aren't able to understand how to transfer to digital world, how to develop or choose software (an omnichannel platform) that transfers control to the clients and to execute on demand banking digital processes by entering and using data.
One more point is trust. Traditional banks earned traditional trust with their clients, but digital trust is not quite the same. Peter made another case study, transferring 100 GPB from his 12 accounts with 12 banks in the UK to his account in the US and was comparing results.
The real cost of sending the money to the US was between 0 and 28,92 GBP!!! And traditional banks are not explaining to the clients how much it will cost; how long it will take and where is the money in the process at any given moment. They will not even notify the client when the money reaches the receiver's account. It's a very long process.
Neo bank Wise will inform the clients in advance exactly how much it costs and how long it takes, they guarantee the exchange rate for that period and they inform the client during the process. If someone is able to transfer money from their account with a debit card or from the account with instant transfer to client's Wise account, the whole transfer will be instant. Immediate fulfillment!
This is digital trust: open and transparent. No hidden fees and charges, no small print in the contract.
Neo banks, on the other side, start their business as startups and they need to acquire as many customers as possible, as fast as possible. That's the reason why they offer an account free of charge including a debit card and mobile services. Later they offer premium products that are charged for, but in most cases that is not enough to bring them to profitability.
With the exception of Tinkoff Bank in Russia, Wise (former TransferWise) in the UK and a dozen more that are profitable, all other neo banks live of the invested capital. They are growing the number of clients and increasing value of the bank with promised future profitability.
Some traditional banks are acquiring neo banks and fintech's, but this is also not the best solution. Many marriages didn't bring expected results and divorce was painful.
Please let us know what you think: what is the best way to enter the new digital world of banking?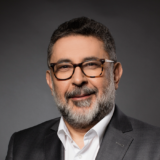 Branislav Vujovic
President of the Supervisory Board