We had the opportunity to discuss digital currencies, transformative technologies, decentralized finance, and the broader fintech industry with Gregor Bierent, CEO of NF Innova.
There are already banks in the virtual world
Can you tell us more about yourself? How long have you been in the Fintech industry? You are engaged in innovation and you are part of a large industry that is changing the world and our behavior, what inspired you to do this type of work?
I am in the business since more than 15 years now, always working as business enabler and value creator thru technology. I started my career in Consulting after I finished my Master studies in Business Informatics, and got the chance quite quickly to run transformation projects for international enterprises. Back then it was still called a technology projects, but it was already the start of digital transformation, which was fascinating me from day one, since technology enabled the optimization of business, the creation of new services and the simplicity for the users.
Digitization is powerful, we all know and see that in our private lives but also business. I have always been interested in how it can improve businesses and especially after the economic crises 2008, how digital can impact the financial sector. What we have seen happening in the recent 10 years in financial services is impressive but also shocking. I believe nobody thought ten years back that banks will start reducing their branches, accounts will be opened online or that newly established "only digital" banks will grow quickly to a size bigger than incumbent banks and take over customers.
It is great to be now CEO of a fintech company which is strategic partner of leading international banks and reshaping the financial industry. With our Digital Banking Software platform "FINTENSE" we enable our partners – that's how we call our customers – to lead the Digital Banking revolution. And it is fun to work with innovation teams on new product ideas and to co-create with our customers value creating features on FINTENSE, which enable them to change their business model and deliver bigger value to their end customers.
Taking into account the new types of technology such as distributed ledger or digital currencies (Crypo), decentralized finance (DeFi) etc., I believe the Fintech industry and is one of the leaders when it comes to Digital Transformation.
How do you continue to develop your skills and stay current in your field? What is challenging for you?
Technology is evolving and changing quickly, new players and ideas are being established very often and around the globe. Thus, we need to stay up to date with latest trends in our sector and be always on the top to understand how new technology can add value to our product and ultimately for our clients.
Being part of an international community of Fintech & technology experts is essential to discuss, brainstorm and challenge new technology trends and to closely cooperate and benchmark these with banks. Doing that is enabling us to understand and assess both worlds and to create clear actions how to use and leverage.
More and more people are accessing banking services through mobile applications or other digital channels. Banks are investing in customer engagement to provide their customers with a convenient and simple banking experience. How does NF Innova help them do this?
Since Covid started we recognized that many interactions between banks and their customers are done on digital channels, especially in the region of Central Eastern Europe. Acceptance of online services in banking was increased dramatically, so that especially in the Retail segment, customers are interacting +50% with the bank on digital channels. From Opening the account, to checking balance or releasing international transfer, any offered digital product is consumed online. Only services which need strong advisory and consultation from the bank, eg. financing the purchase of an apartment, is happening face-2-face and even in that field, we are already actively digitalizing this digital mortgage process with our technology.
Usually, our team is supporting banks to understand the key touchpoints with clients and to find the best way and service to provide banking experience on these channels in combination with immediate fulfillment, which is the "one-click buy" experience we know from eCommerce. We are helping with our market and industry experience to identify best practices, to leverage on our technology platform, which supports quick time to market and roll-out of new initiatives and our international experience to transform into Digital Banking leaders.
In your opinion, what are the biggest trends in the Fintech industry right now?
Distributed Ledger and Crypto currencies are for sure very known in the market, since they are discussed and played with since a while. If we think about decentralized finance or Virtual Reality (Metaverse) there are new trends out there, which can reshape and change the way of banking.

There is a second (virtual) world evolving in parallel to our physical one, if we think about the virtual world, with digital currencies, virtual concerts (eg. Fortnite virtual concert with Rapper "Travis Scott"), where millions of people can participate from all around the world at the same time, or if we think about virtual fashion, … there is a big opportunity arising for Fintech companies and of course for traditional financial service companies to leverage on these trends.

And there are already banks existing in the virtual world, such as HSBC or Halbbank and many more.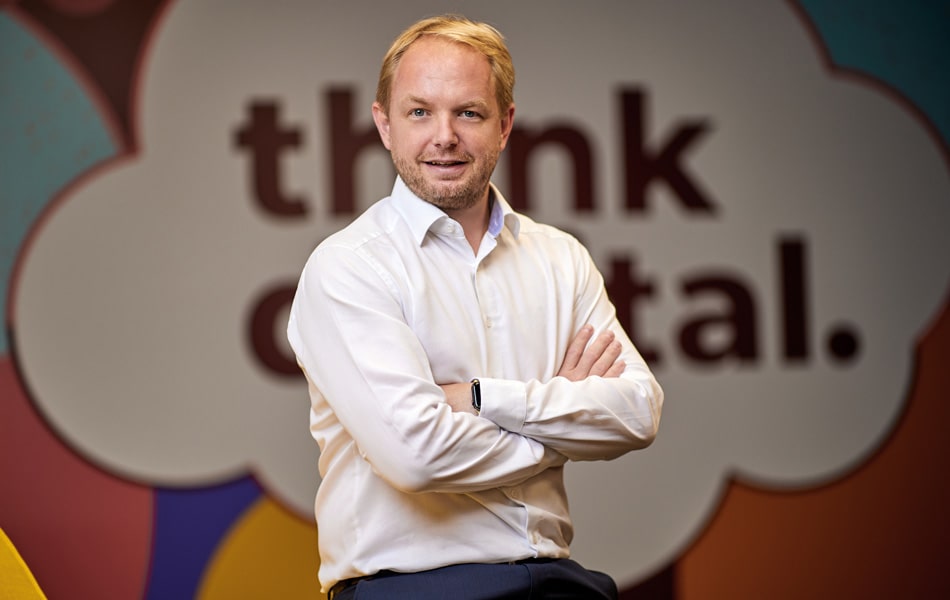 Today there is a lot of talk about open banking, what does it actually mean and why is it important?
Today's banking is not anymore local and limited, customer demands are growing, and we want to connect dots in private and business lives. Open Banking is a new standard which is requiring banks to open up their architecture for external partners (Ecosystem) and to provide access to their customers information. Customers need to provide consent for that of course. Based on that customers can access data from different bank accounts they have with different banks, it can help to "integrate" banking services in eCommerce or use open banking to simplify the customer journeys or support extended credit assessments in case customers are asking for financing. I believe Open Banking is the right initiative to create "embedded banking" experience and to make banking a universal service, which is following our daily life activities.
You come from Austria and you work with a banks all over the world, can you draw a parallel with Serbia?
Serbia is a very crowded but advanced banking market, sometimes just limited because of local regulations, but even in that field, new standards are implemented and improved. More than 55% of Serbia's banking population is using our technology to satisfy their banking needs and to interact with the leading banking institutions.
Serbian banks are very digital driven, working on innovation and great Customer experience to win and sustain their clients across all segments, Retail, Small Medium and Corporate Customers. Also, the automation of customer facing processes (eg. Opening the bank account online or asking for a Loan) are key driver for the market, since banks can reduce costs and increase customer satisfaction dramatically. Two years ago, we won together with Raiffeisen Bank the global award of Finovate in New York for the best Consumer Lending Application ahead of digital native Sofi Bank from US.
Knowing that and other examples where we see that Serbia is leading trends and not following them, I strongly believe that regional banking market is developing in big steps, readiness for new ideas is granted and digital leadership is key priority for most banks.
You and your team presented augmented reality there. Have banks started to use the power of artificial intelligence to improve customer experience, automate processes and provide better personalized financial advice?

Finovate Europe was a very interesting event for us, because it is an invite-only event for technology companies and Fintechs, so you have to proof and qualify that your technology is on the cutting edge to be accepted there. We did that already the third time since the event was launched eight years ago and it is special, because it is the hotspot for Digital Banking in Europe.
This year, we presented our latest Product Innovation around Augmented Reality, which combines our entire technology stack and focuses on advanced User Experienced. We combined virtual and real world in use case, where your "virtual private banker" offers you how to finance the purchase of your new Apple phone in the physical store, once you are there and using your mobile banking application. It is a case which lets customers decide and receive on spot financing for special products and to check-out cash less. It is a combination of Open Banking, Digital Banking capabilities with a bit of the Virtual world.